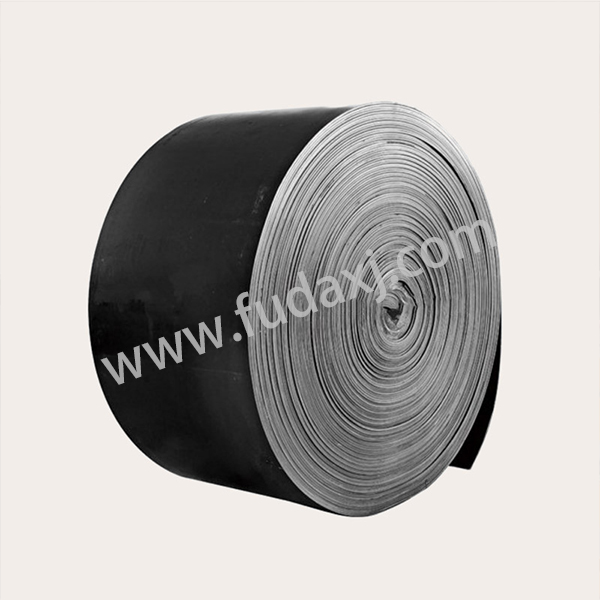 The characteristics of the skirt conveyor belt
Product structure: skirt-up conveyor belt (conveyor belt with corrugated ribs), which is mainly composed of the following three parts:
1. High-strength, high-wear-resistant base belt, with greater lateral rigidity and longitudinal flexibility.
2. High-strength heat-vulcanized rubber corrugated ribs.
3. Horizontal partitions to prevent objects from sliding down.
The bottom of the rib and the partition and the base belt are thermally vulcanized into one body. The height of the rib and the partition can reach 40-630mm. A canvas is added to the rib to enhance the tear resistance of the rib. The corrugated rib is soft and flexible. It can ensure that the conveyor belt smoothly passes through the end wheel and the tail wheel.
Conveying capacity: Convey various forms of bulk materials from coal, ore, sand to fertilizers and grains along horizontal, inclined and vertical directions with corrugated sidewall belts. The particle size of the material is not limited, from a small particle size to a large particle size of 400mm, and the conveying capacity can be from 1 cubic meter/hour to 6000 cubic meters/hour.
Product specifications: 400mm--2000mm, etc.
ZHEJIANG FUDA RUBBER CO.,LTD was founded in 1989,has been focused on rubber conveyor belt production more than 30 years. Our company covers an area of 35000 square meter and has 25000 Square meter of building parts, We have fixed assets of 250 million Yuan, registered capital of 108 million Yuan.
We are a base of rubber production from design ,production, sales to service. Our company manufacture all kinds of ST belt, multi –ply conveyor belt, transmission belt such as Steel cord conveyor belt ,high temperature resistant conveyor belt ,abrasion resistant conveyor belt ,Anti tear conveyor belt, oil resistant conveyor belt, chemical resistant conveyor belt, Fire resistant conveyor belt ,cold resistant conveyor belt ,complete patterned conveyor belt and so on.